Deputy Premier opens 16th Bahrain International Book Fair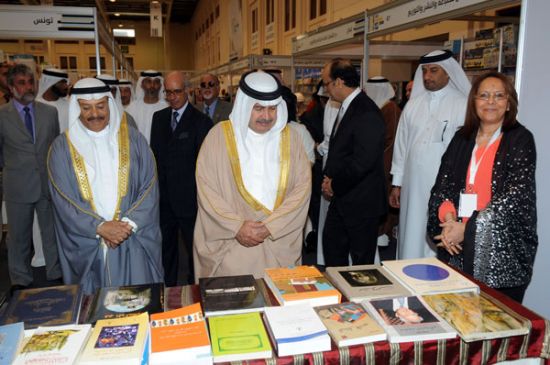 Shaikh

Ali bin Khalifa

, while inspecting the exhibition


Prime Minister (HRH) Prince "Khalifa bin Salman Al Khalifa" Delegated Deputy Prime Minister Shaikh "

Ali bin Khalifa Al Khalifa

" on Thursday morning (March 27, 2014) for the opening ceremony of the sixteenth Bahrain International Book Fair , which is organized by the Ministry of Culture at the Bahrain International Exhibition and Convention Centre with the participation of more than 300 publishing houses and cultural institution intellectual local Arab and international.

Shaikh Ali bin Khalifa Al Khalifa stressed that the culture given much attention by the Prime Minister for its role in the development of the consciousness of the people and upgrade them as one of the important means to enhance the reputation of the Kingdom of Bahrain as a country with a long history of civilization and openness in all areas of culture and arts.

The Deputy Prime Minister toured the exhibition accompanied by the Minister of Culture Shaikha "

Mai Bint Mohammed Al Khalifa

" which he briefed on the sections of the exhibition and listened to an explanation of the curators for exhibits and publications of books .

The Prime Minister Has expressed his admiration as witnessed by the Bahrain International Book Fair consisted of consecutive successes in attracting many publishing houses Arab and international participation including embodies the Kingdom's ability to organize international specialized exhibitions.

He commended that the Bahrain International Book Fair through its successive able to gain increasing importance and a large turnout of both publishing houses or visitors under the polarization of many titles that cater to everyone's tastes, as well as it contributed to motivate young people to read and learn about offering them a variety of books in various fields.

For its part, expressed Sheikha Mai Bint Mohammed Al Khalifa sincere thanks and appreciation to His Highness the Prime Minister on the show of interest in culture and literature, stressing that the care of His Highness the Bahrain International Book embodies the extent of the faith of His Highness the importance of culture as the most important element in the renaissance of nations and progress. It's Worth mentioning that "

Egypt

" is the guest of honor at the Bahrain International exhibition.